Moving to Aspen-Snowmass & The Roaring Fork Valley
Congratulations! If you're moving to Aspen, Snowmass and the Roaring Fork Valley either full time or part time, you've chosen one of the world's most beautiful places.
Relocation Guide
Sally Shiekman's Relocation Survival Guide for the Roaring Fork Valley
This guide is designed for anyone considering a move to the area and is a great source of information. Here are just a few of the things Sally has included to help you get your move off on the right foot:
A complete map of the area, including all streets, highways, public transportation, schools, parks and public areas, shopping centers, churches and major landmarks.
A breakdown of local neighborhoods, including average prices and types of homes as well as schools, parks and recreational areas found in each one.
Guide to popular restaurants, shops, attractions and entertainment around the area.
An insightful step-by-step relocation checklist, including things you'll need to do in your current home, things to take care of before you get here, and the things you'll need to take care of once you arrive.
Referral listings of Sally's hand-selected and highly recommended team of professionals, including loan officers, accountants, lawyers, decorators, remodeling and construction companies, financial planners, house cleaners, landscapers and more.
A current copy of the local newspaper, so you can read up on all the latest news in your new "home town".

Make Your Next Move Your Best Move
As a real estate professional, Sally has made it her duty to know everything she can about relocating to, from or within Aspen/Snowmass and the Roaring Fork Valley. Indeed, she's widely considered an expert on the subject. Those who have worked with her appreciate knowing the purchase of their new home is in the hands of such a capable and trustworthy professional while they're wrapping up all the last-minute details of packing and moving out of their previous home.
Sally believes in making the real estate and relocation process as easy as possible for everyone involved. To her that means providing information to anyone who wants to find out more about the city she loves so much and knows so well. That's why she is providing the free relocation materials below with no obligation. Simply fill out the
Contact form
, and let us know where to send it!
Why Sally?
With her passion and knowledge for the area, Sally is the ideal professional to help you make the most of your opportunities here in Aspen and the Roaring Fork Valley.
Property Search


Sally Shiekman
---
Congratulations to Sally for winning the Female Realtor of the Year by The Aspen Times!
"I am so honored to have been voted the 2019 #1 Female Realtor in the Aspen Times' Best of Aspen competition. Thank you so much for your votes (and your votes of confidence in me and my abilities as a real estate professional!). I am truly grateful and humbled."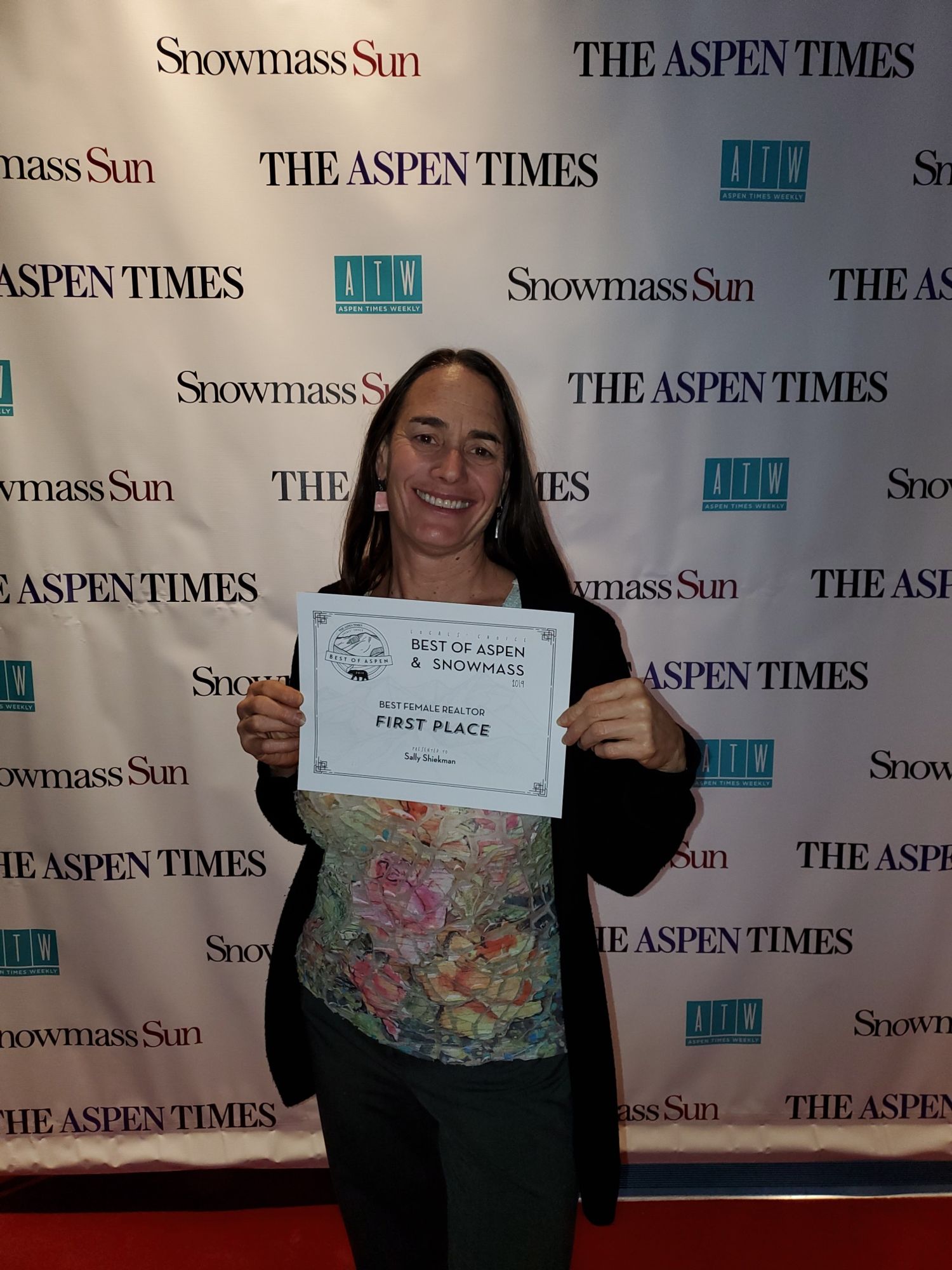 Office Direct: 970-429-1088
Cell: 970-948-7530
Office Main: 970-925-6060
415 E. Hyman Ave
Aspen, CO 81611